Our Reviews Of The Best Camping Chairs USA
With endless options on the market, finding the perfect camping chair for your needs can be a daunting task. This thorough guide compares the top 10 best camping chairs in USA so you can easily determine which model fits your priorities. Whether you want a compact, lightweight chair for backpacking or a luxury recliner for maximum comfort, there's a camp chair here for you.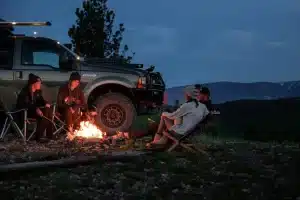 Throughout this article, we'll explain the key factors and terminology in simple terms so you can make an informed decision when purchasing the best camping chair. We've compiled detailed reviews on chairs spanning a range of budgets and uses, from affordable picks to premium quality chairs built for comfort. Compare the lightweight, portable designs for easy transport or heavy-duty chairs that can hold more weight. See which chairs offer handy features like drink holders, side tables, and storage pockets.
No matter if you need an inexpensive chair for occasional use or want to invest in a chair to relieve back pain for years to come, this guide has you covered. We'll answer the critical question, "What is the best camping chair?" based on real customer experiences. With this advice, you'll find the ideal chair to enhance your next outdoor adventure when traveling.
How to Choose the Best Camping Chairs in 2023
Consider the Chair Design and Type
When selecting a camping chair, the design type impacts portability, ease of use, and seating position. Standard quad folding chairs with 4 collapsible legs are simple and budget-friendly. Flat folding chairs fold in half for very compact storage. 
Directors' chairs fold via the armrests and often have side tables. Lounge chairs seat multiple people but need sturdiness. Stools are backless and lightweight. Moon chairs wrap around you for superior comfort but can be heavy. Kids chairs cater to children with features like sunshade canopies.
Evaluate Size and Dimensions
Look at folded and unfolded dimensions to find the right size chair for your needs. Compact, portable chairs sacrifice seating space, while wider models prioritize spacious seats and armrests. Measure a chair's seat height from the ground when open if height matters. Tall people need higher seats for comfortable leg positioning.
Consider the Fabric and Padding
The fabric and padding affect comfort and durability. Breathable mesh fabric prevents sweat buildup on hot days. Durable fabrics like ripstop polyester withstand years of outdoor use. Chairs with ample padding in the seat and back provide cushier comfort for long periods of sitting.
Examine Frame Materials
The frame materials influence the chair's strength and weight. Aluminum and alloy steel frames keep chairs lightweight yet strong enough for frequent use. Avoid chairs with flimsy frames that seem unstable or only support minimal weight.
Assess Extra Features
Look for convenient extras like integrated cup holders, storage pockets, cooler bags, carry handles, and more. For uneven terrain, choose chairs with angled legs or wide footprints for stability on all surfaces.
Prioritize Durability
Finally, opt for durable chairs from reputable brands that can handle years of regular use. Look for high-weight capacities, water-resistant and rust-resistant materials, and long warranties when investing in a chair built to last.
Consider Your Needs
By evaluating these factors and contemplating your specific camping needs, you can discover the perfect chair for comfort, portability, and longevity during all your outdoor adventures.
Size and Portability
When selecting a camping chair, consider both the size of the person using it and the chair's portability. Chairs come in various sizes, from compact portable models to extra-large designs. Measure who will use the chair and opt for wider, more spacious options if needed. However, if you transport the chair frequently, compact and lightweight chairs maximize portability. The most portable chairs are stools that are packed into backpacks.
Also, factor in your usual mode of transportation and camping activities. If you'll carry the chair long distances or on hikes, compact and lightweight chairs are crucial. But with vehicle access to the campsite, bulkier, heavier chairs work fine. Overall, balance the need for comfort and space with the chair's intended portability.
Weight Capacity and Durability
The chair's weight capacity must align with the user's weight for safety and durability. Check the listed maximum capacity and don't exceed it. Chairs built with lightweight materials often have lower weight limits than heavy-duty steel or alloy chairs. If you or your fellow campers are larger, opt for reinforced frames and higher weight capacities.
For long-lasting performance through years of use, choose reputable outdoor brands using ripstop nylon or polyester fabric along with rust-resistant, sturdy aluminum or steel frames. Avoid flimsy materials prone to tearing or buckling. Investing in a durable, high-quality chair is worthwhile.
Comfort Features and Quality Materials
The best camping chairs provide lasting comfort through smart designs and high-grade materials. Prioritize generous padding on the back, seat, and armrests, which prevents soreness during hours of lounging. Breathable mesh helps keep you cool on hot, sunny days. Look for stability features like wide footprints or angled legs to keep the chair sturdy on uneven ground.
Quality aluminum or steel alloy frames withstand the elements, while canvas or ripstop nylon fabric resists rips or fraying after repeated use. Water-resistant treatments add further longevity. Combining comfort and top-notch construction ensures a chair ready for adventure.
Convenient Side Tables
Look for camping chairs with side tables to maximize lounging convenience. The best models include built-in side tables, usually folding out from one armrest. Tables give you space to place drinks, snacks, books, phones, sunglasses, and other items for easy access while seated. Side tables prevent you from needing to bring a separate portable table. Prioritize chairs where the table feels sturdy once extended and is large enough for your essential items.
Integrated Cup Holders
Chairs with thoughtfully designed cup holders keep refreshments secure. Search for models with cup holders near the armrests for easy drink access. Deep, sturdy designs prevent tipping, while insulation keeps drinks cooler for longer in warm weather. Having an accessible spot to place beverages means you won't need to bend down to the ground or balance them precariously on the chair.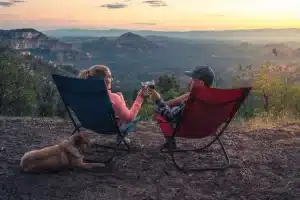 Innovative Built-In Coolers
For the ultimate convenience, look for chairs with built-in coolers, usually mesh pouches on the side. These allow you to store cold drinks or snacks directly on your chair rather than in a separate cooler. Choose insulated cooler pouches to maintain lower temperatures. Easy access to chilled beverages without leaving your seat makes relaxing even simpler.
Helpful Storage Pockets
Chairs with pockets, pouches, or compartments give you space to stow small gear. Look for mesh or canvas storage pockets to securely hold items like sunscreen, glasses, keys or phones. Thoughtful organization means you won't misplace essentials. Some chairs even have zippered valuables pockets.
Footrests and Headrests for Superior Comfort
Upgrade your lounging with convenient footrests and headrests. Chairs with footrests allow you to kick back and extend your legs for added relaxation. Headrests provide cushioned neck support if you want to snooze or gaze at the stars. Combining these amenities creates a cozy, upscale seating experience.
Carry Bags for Portability
Carry bags protect your chair during transport while keeping all pieces together. Bags with shoulder straps allow you to carry the chair hands-free. Consider the packed chair dimensions when choosing a bag – it should easily accommodate a folded chair. Padding helps shield the chair from bumps during travel. An included carry case simplifies transportation and storage.
Best Camping Chair Reviews USA
Here are the 10 best camping chairs and their review.
Tangkula Outdoor Folding Chaise Lounge
Tangkula Outdoor Folding Chaise Lounge Chair, 5-Fold Reclining Beach Chair, Patio Recliner Chair w/ 360° Canopy Shade & Side Storage Pocket, Portable Chaise Lounge for Beach, Sunbathing.
The Chair
[(5 Level Adjustable Recline)] The outdoor lounge chaise features five different flat and laying positions that can be adjusted to suit your needs.

 

You can adjust the chaise lounge to sleep, nap, or recline to have a comfortable time.

 

The ergonomic design fits your back and waist curve to reduce stress and muscle tension.

[(Adjustable tilt shade canopy:)] This folding recliner has a large canopy made from weather-resistant oxford material to provide you with a cooling shade on hot days.

 

You can adjust the angle of your canopy using the 360deg tilt system.

 

You can also store your sunglasses and drinks in the side pocket.

Folding Design for Easy Transport:] The chaise lounge can be folded up into a compact size in seconds by one person.

 

It is lightweight and foldable, so it can be easily stored and carried outside.

 

Hand ropes make it easier to carry.

The reclining lounge chair has a powder coated steel frame that is durable, anti-rust and wear-proof. This ensures a long-lasting service life.

 

The breathable oxford material provides a comfortable seating experience.

 

The footpads and reinforced crossbars provide extra stability.

The lounge chair is a stylish and functional design with a simple and sleek look. It adds an accent to any room.

 

The lounge chair can be placed in the garden, on the patio, in your yard, indoors, in a sunroom or basement or anywhere else you want to relax.
The Cascade Mountain Tech Folding Camp Chair is a well-constructed, breathable low-profile camping chair ideal for extended sitting. It has slightly padded armrests and sits just 9 inches off the ground, making it great for concerts but not for frequently standing up. It provides a comfortable seated position for activities like picnics, campfires, or beach trips.
With a 113kg weight capacity, it accommodates less than some options but remains comfortable in its weight range. A carry bag is included for portability. It comes in four attractive colors to choose from.
GCI Kickback Rocker Chair
The GCI Kickback Rocker Chair is one of the most comfortable camping chairs, ideal for long days relaxing by the campfire or lake. Its rocking motion offers ergonomic cradling comfort beyond regular folding chairs. The durable powder-coated steel alloy frame comes in colors like green, blue, and red.
It has an integrated beverage holder, but its quality comes at a cost – it's heavier than portable options and lacks a carry bag. However, it folds down and has a carrying strap for transport.
Oztent King Goanna Camping Chair
The extra-large Oztent King Goanna camping chair sets the standard for quality with its roomy padded seat, insulated cup holders, and robust design. It has a stylish grey, black, and orange color scheme. The 600 denier double-layered polyester seat with thick padding provides hours of comfort.
The extra high backrest includes a headrest, ideal for people with back pain. With a 200kg weight capacity and a 5-year warranty, its heavy-duty steel frame is built to last. At 6kg, it's lightweight for its size and comes with a carry bag.
Pros
Padded seat and high backrest for comfort

Insulated drink holders

Huge weight capacity
Cons
Low profile makes getting up difficult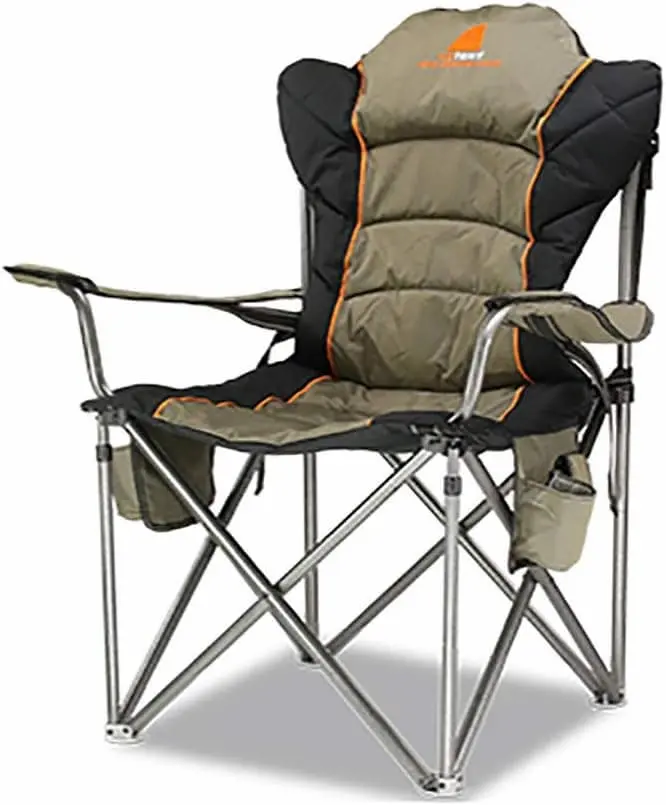 Coleman Big and Tall Camp Chair
Coleman Big and Tall Camp Chair | Folding Beach Chair | Portable Quad Chair for Tailgating, Camping & Outdoors
The Coleman Directors Plus Camping Chair is a well-constructed option with a fold-out side table perfect for camping meals. Its sturdy aluminum frame supports up to 135kg while weighing just 3.35kg for easy transport in its included carry bag.
The royal navy chair has a padded polyester seat for comfort and armrests. The side table includes an integrated drink holder. As one of Coleman's larger, quality chairs, it folds flat for compact storage.
KingCamp Director's Chair Heavy Duty Camping Chair
KingCamp Heavy Duty Camping Director Chair Outdoor Folding Chairs for Adults Oversized Camp Chair with Side Table, Cooler Bag, Padded Arms, for Fishing Sports Beach Picnic, Iron, Support 330lbs
The KingCamp Director's Chair is an affordable, comfortable, heavy-duty camping chair. With a 160kg weight capacity, it's one of the strongest folding chairs available. The taller seat makes getting in and out easy. The high backrest accommodates taller individuals.
Deluxe padding provides superior comfort. It includes an insulated cooler side bag and a zippered top pocket for convenience. A carry bag is included for portable transport. At this low price point, it's an excellent value for a sturdy, padded, and functional camping chair.
Naturehike Ultralight Portable Camping Chair
The Naturehike Ultralight Portable Camping Chair is an excellent, simple, compact option perfect for backpacking and hiking. The small version packs down into a 37 x 12cm bag that can fit inside a backpack. The larger version compacts to 50 x 13cm.
Weighing just 1.1kg, it has an impressive 150kg capacity. The breathable fabric stretches onto the sturdy frame comfortably. While features are minimal, the lower back support remains reliable. It excels in portability for the weight.
Pros
Extremely compact and lightweight

Fits folded in a backpack

Sturdy construction
Cons
Lack of features like a cup holder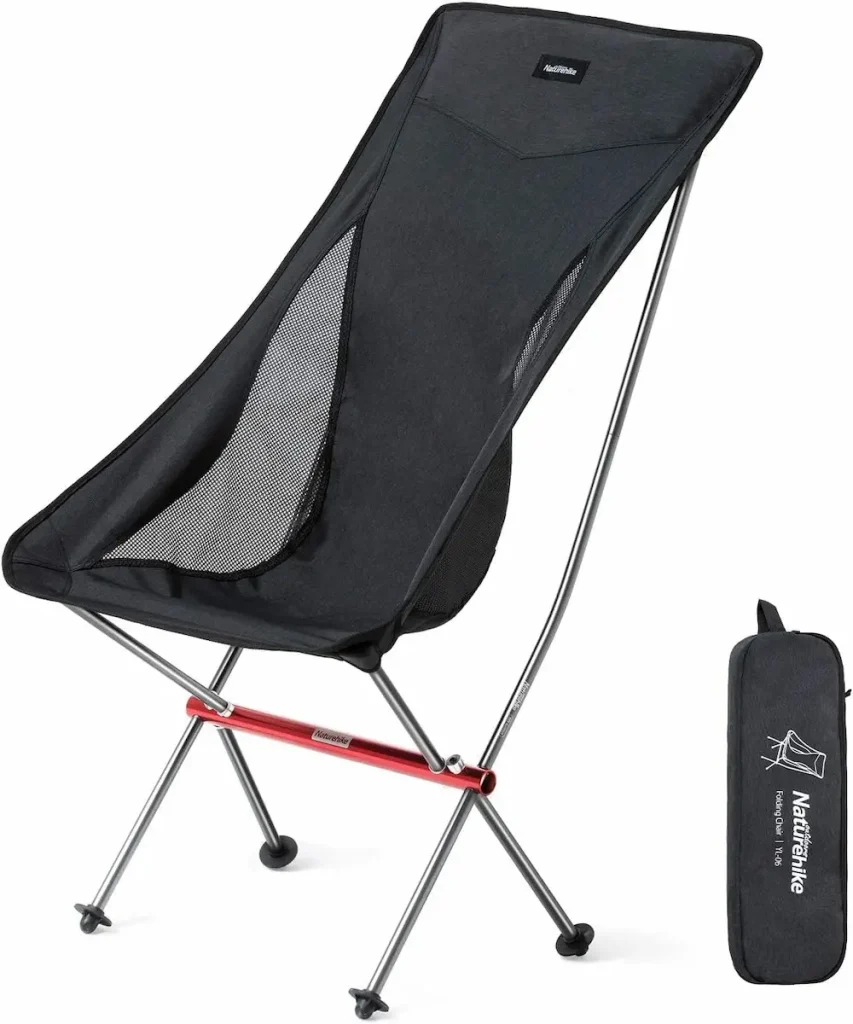 Helinox Chair Zero Ultralight Compact Camping Chair
The uniquely designed Helinox Chair Zero is the ultimate portable camping chair. The interlocking ripstop polyester seat stretched over the lightweight alloy poles provides exceptional support. It comes in black, grey, or sand colors with a matching frame.
At just half a kilo, the durable materials make an incredibly lightweight chair. Folding down to 34cm, it packs into any hiking bag. The 120kg capacity is suitable for most despite its tiny packed size. It includes a carry bag for easy transport and an astounding 5-year warranty. The low seat could be uncomfortable for taller individuals.
Pros
Extremely lightweight and compact

Ultimate portability for backpacking

5-year warranty
Cons
Lack of armrests

Sits low to the ground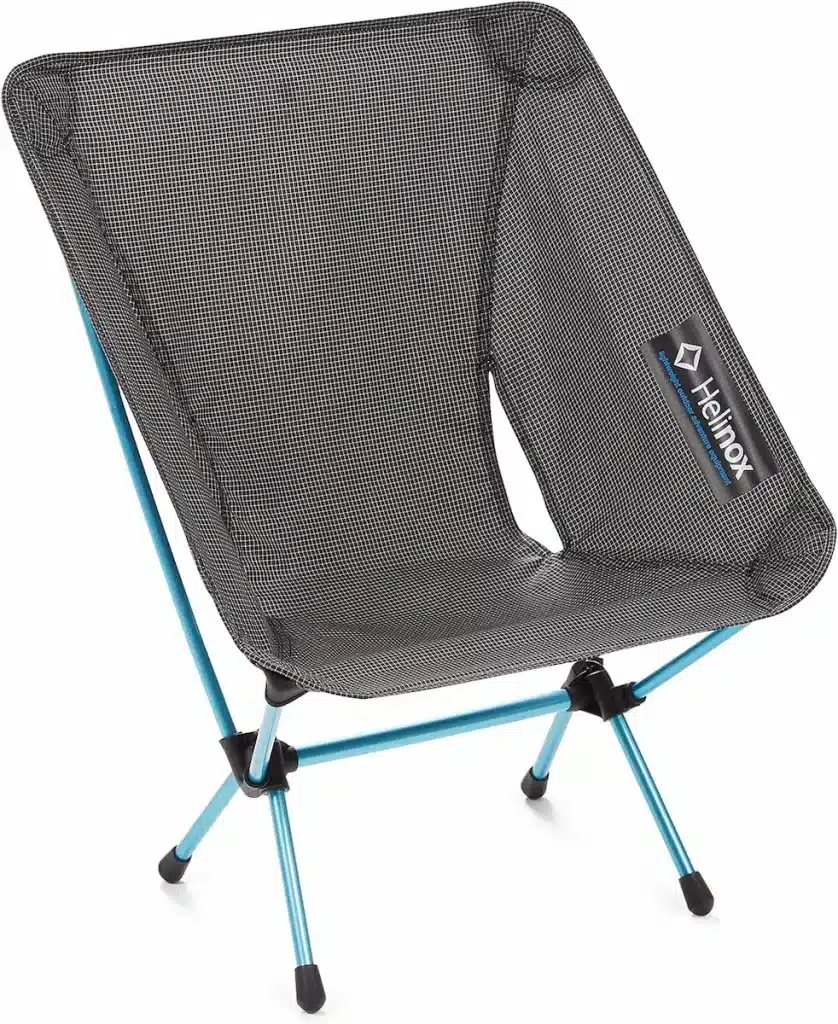 Amazon Basics Portable Folding Camping Chair
Amazon Basics Portable Folding Camping Chair with 4-Can Cooler, Side Pocket and Cup Holder with Carrying Bag
Pros
Super lightweight and portable design

Carry bag included

Quick and easy no tools setup
Cons
| | |
| --- | --- |
| Brand | Amazon Basics |
| Color | Black |
| Product Dimensions | 38″D x 24″W x 36″H |
| Back Style | Solid Back |
| Special Feature | Fol, Arm Rest, Cushion Availability |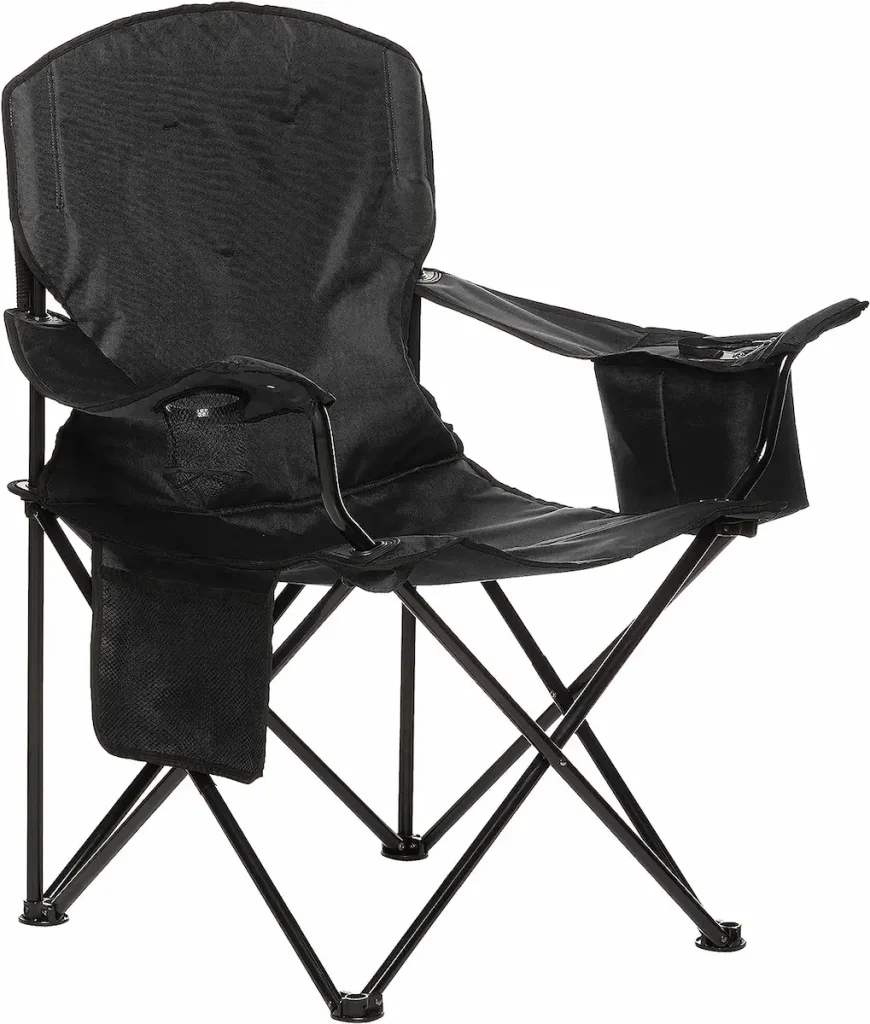 TIMBER RIDGE XXL Upgraded Oversized Directors Chair
TIMBER RIDGE XXL Upgraded Oversized Directors Chairs with Foldable Side Table, Detachable Side Pocket, Heavy Duty Folding Camping Chair up to 600 Lbs Weight Capacity (Blue)
The Chair
Unfolded size is 32.7″W x 24″D x 36 3/5″H, folded size is 7″ X 24 4/5 " X 37 2/5″; product weight of 22lbs.

 

The dimensions are 32.7″W by 24″D by 36 3/5″H when unfolded, and 7″X 24 4/5 X 37 2/5 when folded. Product weight is 22lbs. This folding oversize camp chair has an extra wide seat (28.4 inch).

The chair is made of a 25mm steel tube frame and a 600D polyester fabric embossed with a powder-coated finish. It's sturdy enough for large people and big men.

The comfortable directors chair has a foam-padded full back, wide seat and padded armrests. It allows for maximum comfort, including long sitting.

SIDE TABLE AND SIDE POCKET: The foldable side table is located on the right side, while the side pocket on left side can be removed to allow you to place your drinks and cell phone.

 

Mesh pocket for other small items under the seat.

Timber Ridge offers a 1-year manufacturer's warranty on all products.
With an array of options to suit different needs and budgets, there is a fantastic camping chair out there for everyone. Whether you prioritize lightweight portability for hiking or maximum comfort for base camping, this guide outlines the top-rated chairs available in USA. 
Comparing the key factors from each chair's design, materials, and special features helps you identify the best model for your preferences. Investing in a quality camping chair designed for durability enhances every outdoor adventure. 
With the knowledge from this article, finding your perfect camping chair is easy, so you can relax in comfort on your next escape into nature.