Your Burma / Myanmar Travel Guide
Myanmar (Burma), opened its borders to the world in 2012, revealed a country that was Asia in its purest form. There is no country in the world where you'll feel more welcomed than Myanmar. It is bigger than Thailand but it's a bit difficult to navigate.
Myanmar, a country known for its stunning landscapes and friendly people is a truly amazing place to visit. It was on my list of places to visit for years and I was delighted when, a few years ago it became more accessible.
Myanmar is the perfect place to visit if you enjoy experiencing a culture that is authentic and discovering low-key locations away from the crowds of tourists. 
If you are heading to Myanmar, we do recommend a 2 to 3 week vacation as it takes a while to get around and you don't want to be rushing!
Should You Travel to Myanmar?
Myanmar's troubled past and recent political issues are well-known. The country was ruled by a military dictature and Aung San Suu Kyi, the democratically-elected leader of Myanmar, spent significant time in house arrest.
The Rohingya Muslim community is also a target of violence fueled by racism. During the 2016-17 crisis, approximately 625,000 Rakhine refugees were forced to flee their homes and cross into Bangladesh.
It is ultimately up to you whether this is a good reason or not to visit Myanmar. Many travel bloggers have passionately argued for both sides. In this article, I will remain neutral on this issue, while still respecting both sides.
Tourists are not concerned about safety. In 2012 the bans on international travel were lifted and tourists began to visit Myanmar. The authorities don't let tourists get close to any danger. Despite all the negative media coverage, the majority of people in Myanmar are not involved with politics.
In my recent visit to Myanmar I found that scams and petty crimes are extremely rare. As a result of being relatively isolated for decades, the attitude towards tourists is very friendly and welcoming.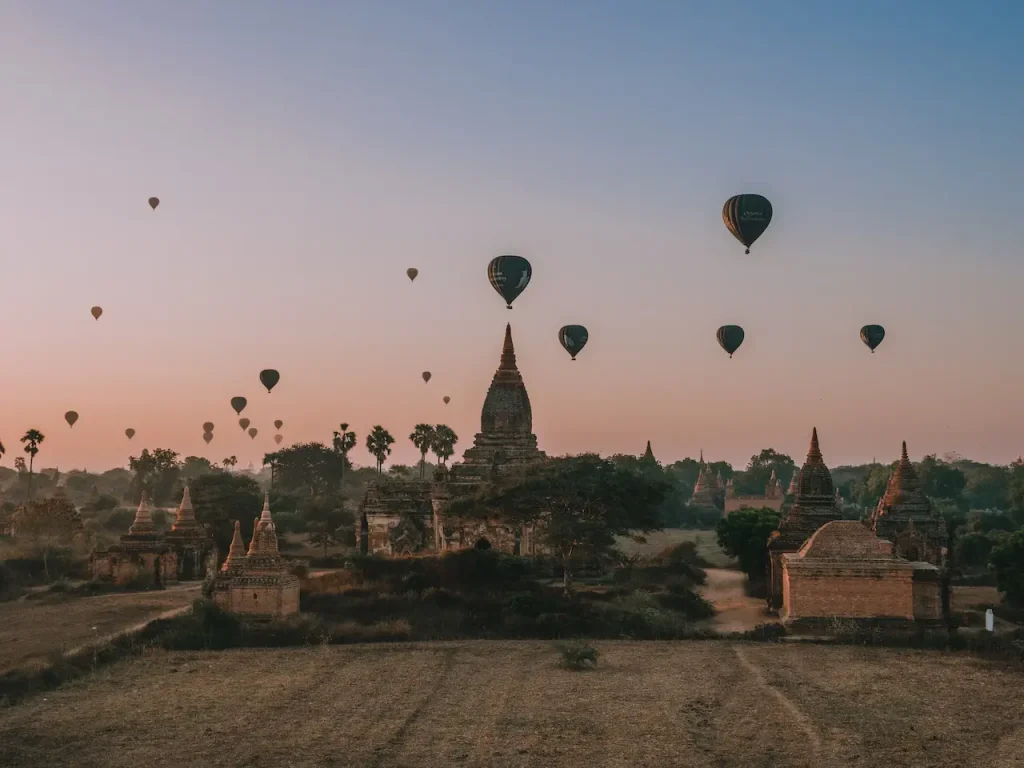 Why Backpacking Is Important In Myanmar
Myanmar is one of the less visited countries in Southeast Asia. But that may be what makes it special. Myanmar is an unexplored destination that's a great alternative to the over-touristy places in Asia, like Thailand. The beaches are not overcrowded, the prices of everything, except for hotels, is very low, and locals do not treat you like an ATM.
You will be able to see dozens of amazing places while backpacking Myanmar!
Bagan, a temple complex with over 2,000 Buddhist temples and pagodas, is home to Inle Lake – one of the most beautiful lakes in the entire world.
Visit Kyaikto, a Buddhist pilgrimage centre located in the heart of the chaos that is Yangon. You can find peace and quiet in Hsipaw, or by visiting the beach towns of Chaungtha or Ngapali.
Interested in Travelling to Mexico? Read: Mexico Travel Guide
BURMA OR MYANMAR?
I'll start off by saying that you won't get the stink eye if you use these country names interchangeably. It's no surprise that this South Asian nation has had its ups and downsides.
Burma is the official name of Myanmar on paper. However, many people still call it that.
In 1989, the military overthrew General Ne Win's government. They then decided to rename Burma as Myanmar. They also changed the name Rangoon's capital to Yangon. Why? Why?
Most people today use both names and don't make a big deal about it.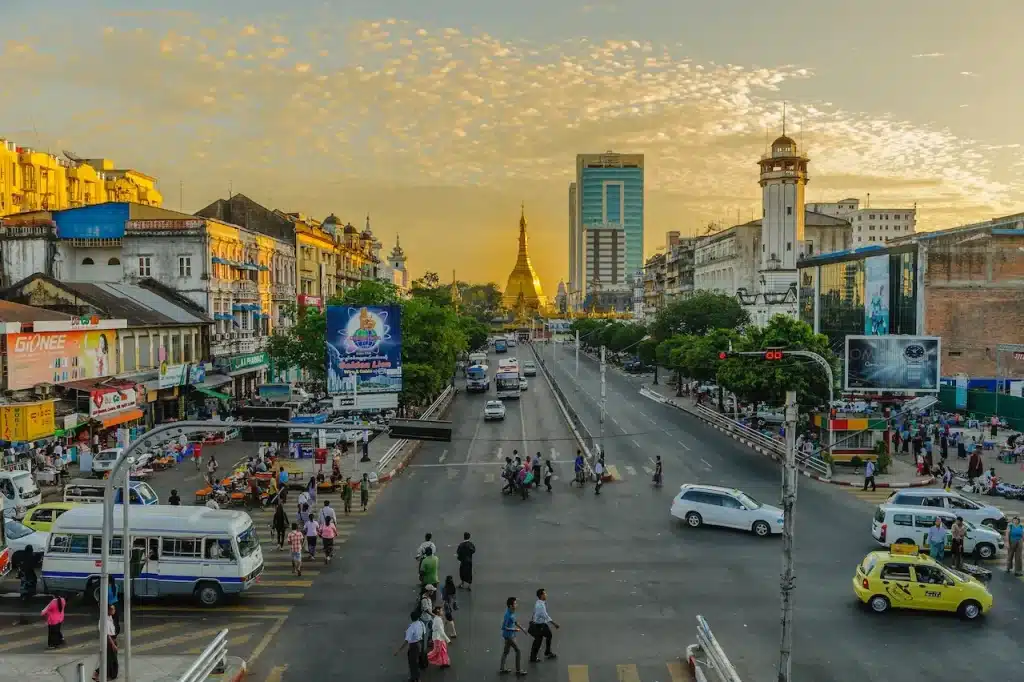 Travel Limitations In Myanmar
Travel in Myanmar used to be restricted by the political climate. In the past 10 years, the political situation has changed dramatically. Backpackers are now able to explore the majority of the country.
The northern parts of Myanmar, including places such as Kachin State, Southern Chin, and Rakhine, are not open to tourists due to safety concerns. It can be hard to get off the beaten track in Myanmar. You can find some of the most popular tourist attractions on the map below.
As a traveler, you are free to go wherever you want in Thailand. It's best to stay on the typical backpacker route in Myanmar and avoid the northern areas. Even if you attempt to travel north, you'll be stopped at some point by the authorities. It's best to check the official government website regularly for updates and new information since the accessibility of various areas in Myanmar varies every year.
Love Italy and want to travel there? Read: Bologna Travel Guide
Entry To Myanmar
It is easy to get into Myanmar. Many airlines fly from South Asian countries into the capital of Yangon. However, you can also choose to fly into Mandalay.
Travelers who want to go overland can cross Myanmar's border with India or Thailand. Foreigners are not allowed to travel to the borders of China or Bangladesh, but the remote border with Laos requires special permission. Recent reports in the local media claimed that the border between Laos, Myanmar and Bangladesh is now open for foreigners. However, local expats claim it's still not possible.
Three border crossings exist between Myanmar and Thailand.
Mae Sot-Myawaddy (central).

 

This is by far the easiest and most popular way to travel from Bangkok to Yangon. It's also the closest to many places of interest within Myanmar.

 

Do not listen to anyone who tells you that this crossing is only one-way. A new road has been completed in 2016 and this no longer applies.

Phunaron-Htee Kee(central).

 

From Kanchanaburi, Thailand, buses run to the border town of Phunaron.

 

The crossing is small, remote and located on a mountain road. It's still fully accessible.

Ranong – Kawthaung (south).

 

This is the crossing that allows you to enter Myanmar from far south.

 

It is said that the roads are rough and, in bad weather conditions, it may not be possible to travel by land from Myeik.
You can also cross the border at Mae Sai-Tachileik near Thailand's Chiang Rai Province, but if you do not have a permit for travel overland (which is rare), you will be stuck. The crossing is not suitable for independent travelers who want to travel into Myanmar by land without restrictions.
There are two open border crossings between Myanmar and India that are accessible to foreigners. The first is Tamu and the second is Zokhawtar/Rikhawdar. Both are close to the beautiful mountains of Myanmar, including the heart-shaped Rih Lake.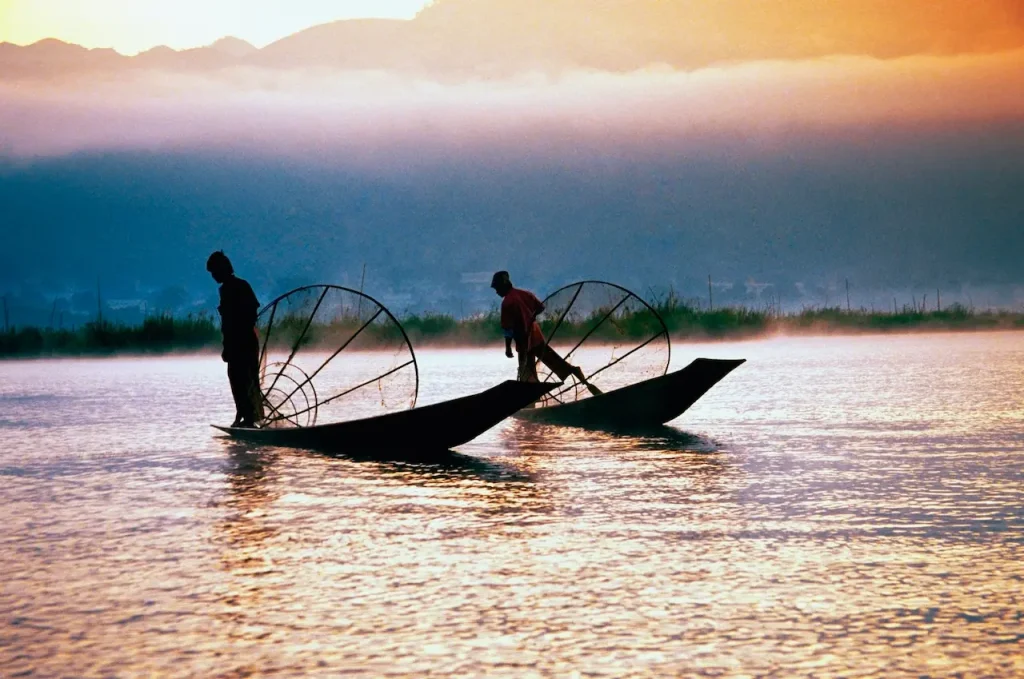 Visa Process To Myanmar
The process of obtaining a visa for Myanmar is fairly simple. There is an official eVisa website where you can apply online for a visa to Myanmar. You only need to pay $50, upload a passport photo and specify the port of entry on your application.
The website says that you will receive your visa within 3 days of applying, but it is often much quicker. Your eVisa will be valid for three months after the date it was issued and you can stay in Myanmar for four weeks.
Places to Visit in Myanmar
Hpa An's limestone mountains and rice fields
Hpa An, which is not on the typical Myanmar travel guide, is often overlooked by tourists. Hike to the top of the limestone mountain. Explore the caves. Or, take a stroll through the lush rice paddies. The journey from Yangon to Hpa An (with Mi Ba Gone Express), takes around 8 hours, but it is worth every minute.
Bagan – Endless Pagodas & Hot Air Balloons
Bagan will definitely make your heart beat faster. Early morning sunrises are spectacular, with hot-air balloons floating between the temples. The top temples to visit in Bagan are listed below.
Temples of Mandalay
Visit the second-largest city in Myanmar, Mandalay. The city has some of the country's most beautiful temples. Bagan and Mandalay are a four-hour drive. You'll notice the difference in wealth as soon as you leave the Mandalay suburbs.
Inle Lake
On the lake are villages made entirely of bamboo and wood. Watch the locals working in their floating gardens and fishing boats. Biking is a great way to explore the nearby backpacker town and the lake. It takes 6 hours to drive from Mandalay to Inle Lake.
Yangon
The Shwedagon pagoda is a large Buddhist temple with a gold-roofed roof. The dome will shine in the orange sunlight at sunset.
Some people may think that Yangon has few major sights or museums. But I believe there is plenty to see and do. Take a stroll through the markets and streets, or relax in a teahouse and observe people going about their daily lives. Chinatown is an excellent place to take street photos or sample some delicious street food.
In Yangon, motorbikes have been banned. Rumor has it that a high-ranking army officer was involved in an accident involving motorbikes and decided to ban them from the city. This is not the exact story of how this law was passed, but it certainly has made the streets in Yangon a lot more pleasant and quiet.
Mandalay
Mandalay, the second-largest city in Myanmar, is a good base to visit the many sights of the region. Take a taxi or rent scooter to reach the U Bien Bridge – Myanmar's iconic teak bridge that spans a lake. This image is featured on the covers of many Myanmar travel guides. Mandalay hill is another popular site. From its vantage points, you can view the entire city.
Mandalay, with its motorbikes and generators outside buildings (for use in power outages), isn't as peaceful or walkable as Yangon. Mandalay is still a fascinating city with a variety of markets and delicious Burmese street foods.
Bagan
Bagan's landscape is dotted with over 200 temples. Explore the area by yourself on foot, by renting bicycles or hiring a guide to take you around in a horse carriage.
You can also climb up on some of these temples to get a great view of the sunset. This panoramic view is spectacular! Ask your guide or hostel for the location of these temples.
The temples in Bagan look impressive when viewed as a group, but it is worth noting that they are all pretty similar up close, and most of them are empty on the inside. After seeing your tenth or so temple, you will probably feel a little 'templed-out'. I say this to temper expectations. The area is large enough to spend an entire day.
Lake Inle
Lake Inle, the second most popular attraction in Myanmar behind Bagan. You'll be dropped at a number of tacky souvenir shops if you take a boat tour. In some of these shops, a long-neck Karen tribal member is displayed almost like a human display. The lake may be beautiful but it is becoming crowded with noisy longboats. There have also been alarming reports regarding the impact tourism has on the lake. These boat tours could be skipped. They're not that special.
This area's main travel hub is the town of Nyaung Shwefrom which you can go on excursions. A trip to Inthein is a worthwhile experience. It's a mini-version of Bagan. These ruins are reminiscent of Indiana Jones, with their hundreds of crumbling stupas and temples.
Trek is a great way to experience the beauty of nature around Lake Inle. It's much more pleasant and less intrusive than boat tours. It was a very pleasant 2 day trek between Kalaw and Nyaung Shwe.
Train to Hsipaw
The experience of riding a train is quite unique in Myanmar! You can enjoy the journey itself by taking a train at least once in Myanmar.
The circleline in Yangon is a popular route. You can read about it on Borders of Adventure's blog.
A journey from Mandalay to Hsipaw is also recommended. The best time to catch the train is early in the morning. You can take a taxi or minivan up to Pyin Oolwin and then board the train.
However, it can be a very uncomfortable trip. The extreme side-to-side swaying could trigger motion sickness if you're prone to it.
The Goteik Viaduct, built in British colonial days, crosses a canyon. Although crossing the bridge wasn't as exciting as my guidebooks had me believe, the journey was more about taking in the scenery.
You might just enjoy the experience of riding on an old, super-slow train. You will be bouncing all over the place when it speeds up. Be careful if you are near an open window, as trees and bushes can get close. The train was like a huge hedge trimmer, cutting through the jungle and spraying branches and leaves into the carriage.
Hsipaw makes a good base for hiking in the area to Mandalay's east. It's cooler because it's higher up.
Kalaw
Kalaw, located just 50mkm from Inle Lake is a beautiful town that serves as a great base for the popular Kalaw-Inle Lake hiking trail. Visit the local market to try the traditional shan noodle and buy a bottle local wine. A nice spa and wellbeing center is located just a few minutes walk from the station. The spa offers everything from foot scrubs and manicures to massages.
Most backpackers stay here for one night before embarking on a three day hike to Inle Lake. This trek has been popular in the past few years. It allows you to see the beautiful mountains surrounding the area and the picturesque villages that are located along the way.
Ngapali Beach
Ngapali Beach is a great place to spend a few days in a peaceful environment. You can join a boat tour or go fishing from the beach.
Accommodation can be pricey, but there are cheaper options down the coast in places like Ngwe Saung. Remember that the monsoon rains can make it difficult to go to the beach from May to October.
Kyaikto
Kyaikto, located in Thaton District and part of Kyaikto Township, is a great base from which to visit the Golden Rock. It is one of the country's most popular landmarks. The Golden Rock, also known as Kyaiktiyo pagoda, is a Buddhist pilgrimage that was built on top of a granite rock. It can be climbed in 45 minutes.
Mount Popa
Mount Popa, which rises about 1,500 metres above sea level is an excellent place to visit when backpacking in Myanmar. Mount Popa National Park is home to an extinct volcanic mountain with a beautiful monastery at the top.
Mount Popa is a 777-step climb. The stairway is covered, and you'll find locals along the way selling anything from wooden crafts to flowers. The staircase is lined with monkeys and you can also see them inside the monastery. The views are stunning. The Irrawaddy river can be seen from the top if the weather is good.
Travel Budget For Myanmar
Backpacking Myanmar doesn't have to be expensive. Accommodation is inexpensive, food is cheap and transport is reasonable.
Accommodation costs
You can expect to pay between $15 and $20 per night for a bed in a dormitory, while a basic private room will cost you around $30. The price will vary depending on where you are in the country. Accommodation is expensive in tourist areas like Ngapali Beach. You can get a bed in a small town for only $10 per night.
Myanmar's accommodation costs a little more than in other countries nearby. This is because the country has been so isolated that it didn't need as many hotels and hostels. Myanmar was playing catch-up so prices were higher.
Transport costs
Traveling from one town to another in Myanmar is relatively inexpensive. You can expect to pay $6 for a ticket to Golden Rock from Bago, and $9 to get from Mawlamyaing into Yangon. You can expect to pay $50 for a car to take you from Sittwe up to Mrauk U. This isn't too expensive if there are two or three other people to share the costs.
Admission costs
Myanmar has many historical sites that charge an entrance fee. The entrance fee to Shwedagon pagoda is $8, and the Golden Rock is $6. Most small temples charge $1. You will need $15 to enter Bagan.
Food Costs
The street food in Myanmar can be found at very low prices. A basic meal will cost you between $1 and $2. The meals cost around $3 in local restaurants. The fish soup they call Mohinga with rice noodles was delicious. Burmese curry, which is usually made with beef, chicken or pork, is also very tasty. Try the deep-fried tofu stuffed with a special sauce, served with cabbage and chillies.
Books About Myanmar
River of Lost Footsteps If you have ever been curious about the history of Burma this book will help you to gain a better understanding of Burmese culture.
George Orwell Burmese Day : Orwell takes you on a journey through Burma in the past, describing the colonial impact and the life of the people.
Myanmar Lonely Planet If you are looking for a guide to plan your vacation, I highly recommend Lonely Planet. It has a wealth of information.
Burma Superstar I am a big fan of cookbooks, mainly because they are great souvenirs. I also love to cook and I find that recipes from places I've visited make the best gifts. This particular cookbook highlights the cuisine of Burmese culture.
Myanmar Travel Guide Conclusion
With all the above said, Myanmar really is somewhere special and different. Not many people actually do go there. If you plan ahead, be sensible and read government warnings, it can be a fun and safe trip! The locals love seeing tourists generally and who doesn't want to travel to the roads less traveled?