Cabo De La Vela Travel Guide: Things to Know 2023
Cabo de la Vela in Colombia is not for everyone. It is an authentic and raw region of Colombia, with stunningly beautiful beaches and a cobalt-blue sea. The indigenous culture and the richness of its native culture are also present. It's also incredibly poor, with not much to do and travellers living in poverty. A tour can make a trip to Cabo de la Vela easier. however, visiting Cabo de la Vela on your own is an adventure!
In this small indigenous village, you won't find fancy hotels but you can still experience the traditional Wayuu lifestyle and culture . You will experience something different in Colombia, no matter what happens!
List Of Things To Know:
Cabo de la Vela, a small town on the coast, is 2 hours away from Riohacha.
Expect basic infrastructure. 

Dining options are limited to fresh chicken, fish or goats, and fresh water is scarce.

 

The accommodation may be a large hammock called a chinchorro.

One full day will be enough to see all the highlights. 

Kitesurfers will stay longer.

All multi-day trips include an overnight stop at Cabo de la Vela.
Plastic waste and poverty may surprise some travelers.
How to get to Cabo de la Vela?
The bus tickets from Santa Marta, Colombia to Riohacha, Colombia cost between 25.000 and 35.000 COP. This trip takes about 3 hours. You can take the bus for 60.000 COP from Cartagena or the from Barranquilla. Each trip takes between 5 and 7 hours.
You can ask the driver to drop you at the car departure point to go to Urubia . You should not enter any car before you have agreed on a price with the driver. Also, do not pay anything more than 15.000 COP. To get the correct price, you can use the phrase "My friend said he/she had paid …"." It's a little more than an hour before you reach Uribia.
Negotiate the price before you enter and be prepared to pay between 15,000 COP and 20 000 COP. Don't expect the journey to be pleasant. Not only will you be able to fit more people in the back seat, but there will also be boxes of food, luggage and sacks. Hey! This is all part of the adventure. It's also a great way to meet other tourists and locals who are returning to Cabo. The journey from Uribia is about 2 to 3 hrs.
The northernmost point of South America
I don't believe in doing things to check them off your list or just because they sound cool. If you are already in Cabo De la Vela, Colombia , is the most northern point of South America.
Punta Gallinas, or the End of the World, is a place in the Caribbean where sand dunes are magically swallowed by the Caribbean Sea, leaving any traveller speechless. Punta Gallinas is the reason to travel to Cabo de La Vela.
The simplicity of life
Cabo de la Vela in Colombia is a great place to forget your worries.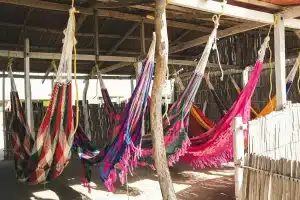 You can't dwell on your troubles when there's no wifi or phone signal, so you can't contact anyone. This is what you will find at Cabo de La Vela. You'll also find that there's no running water or hot water and very little electricity. It's likely you'll be sleeping in hammock. You'll have one of the most memorable adventures of your lifetime!
The Cabo de la vela is a great place to experience the wayuu culture , a culture full of magic, traditions and rituals. The Omar Ibn Al-Jattab Mosque, a remnant of the wave of immigrants that settled in Maica, gives off a Middle Eastern feel.
After reading this, you will:
Decide if you wish you visit Cabo de la Vela.

Know how to get the most out of your smartphone.
You Can Get To Cabo De La Vela On Your Own
Cabo de la Vela seems to be a long way away, and you might think that you need help getting there. You can still have unforgettable adventures even without professional help. Here's how:
Getting to Cabo de la Vela
Riohacha is the first place you will need to go. In general, you'll be arriving by bus. However, flying is an option.
You have two choices once you arrive in Riohacha.
I would recommend that you go to this particular crossroad . 

From Riochacha, you will need to take a 30 minute cab ride.

 

You can take a 4×4 through the desert from here.

 

If you are traveling in a large group, the cost should not exceed 50,000 COP for each person. The trip will last around two hours.

 If you are traveling alone, it may be more difficult as the jeep leaves once your trip is completed.

Uribia is about an hour away from Riohacha.

 you can go to this intersection and find a 4×4 as described.
You can also go to the main market in the city and get a car headed to Cabo de La Vela. This option is not my favorite because it takes a lot of time. It's less comfortable. It was the first time that I went to Cabo. I was buried beneath a mountain of chips and my neighbor looked like a chicken.
Getting out of Cabo de la Vela
It is more difficult to return from here to Riohacha.
You're best off finding to return to Uribia. This is usually at around 5am. Take a shared taxi from Riohacha.
Note : The indigenous people can sometimes strike and make it difficult for you pass through. It is difficult to predict the outcome of a strike.
Some travelers will find this the best option. Working with an agency has the advantage that all of your needs are covered. There will be no surprises like getting stuck in mud or being on strike for 3 days.
If you hate planning, I'd say to avoid agencies. If you plan to stay in the area for a while, it is best to make your own trip. The agencies are the best option if you don't want to travel alone.
Staying in a Rancheria
In this part of the globe, a "rancheria", is a bunkhouse, or accommodation. Cabo de Vela is a place where this is the norm.
It is a tiny beach town. The town is mainly a long street that runs along the beach.
You can find the most basic accommodations right at the town's entrance. Most of these do not have any running water and only a few hours electricity each day.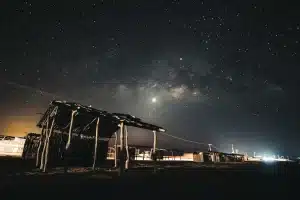 You will see better accommodation and a few restaurants and bars as you continue. The kitesurfing school is located at the end.
You can choose between bed or hammock. Chinchorro (a large hammock that is as comfortable as a mattress) depending on where you are staying.
Naturally, My recommendation is to stay in the kitesurfing area. I stayed at Analauli which had rooms with showers and the option to sleep in a mattress. There was also electricity available 24 hours per day.
A good alternative is utta, located near the lighthouse. You will enjoy the best sunset views at this location.
Best time to visit Cabo de la Vela
First, the temperature is almost the same throughout the year. The temperature is around 20 C deg during the night, and about 30 C deg during the day.
From December to April it is windier and temperatures can be a little cooler. November and October are considered the wet season.
Do not even consider taking your vehicle for a minimum of a week if it rains. The tour operators will be able to tell you if they are able to make it, depending on the condition of the roads.
Bring plenty of sunscreen, regardless of the season. Also, a good sombrero is a great option.
Finally, remember Colombian Holidays. This includes the period from mid-December through mid-January. Also, Holy Week and student vacations in June and October are good times to avoid traveling. These are all good times to avoid traveling in this area.
Cabo De La Vela Is A Kitesurfing Paradise
Cabo de la Vela, Colombia is one of the best places to practice this sport.
This place has strong wind all year round, and conditions are almost always ideal for this sport. You'll also feel right at home in the kitesurfing scene. Kitesurfing is not an easy sport. For a complete beginner, it would take at least 10 hours of lessons. You will need to stay for a minimum of three days.
Riohacha is a good place to begin for beginners, because the wind is more consistent. It is easier to learn kitesurfing this way. After you have mastered the sport, you can head to Cabo de la Vela.
El Faro is the perfect spot to watch the sunset
After about 40 minutes, if you continue walking past the kitesurfing area, you'll reach El Faro. You can also take a 5 minute moto-taxi.
There is a lighthouse called "El Faro" (in Spanish).
The views are better if I continue to walk down to the nearby cliff.
Arrive at least by 5:30pm. You will get the best spots if you arrive early.
El Pilon De Azucar And Mirador Tortuga Are 2 Fantastic Lookout Points
This part of South America has been dubbed the most picturesque and beautiful of all. Colombia is home to some spectacular landscapes, and that's a big deal!
You can see the three elements of the desert, the sea and the sky in all their glory by visiting these lookout points. You will only hear the wind if you do not make noise.
El Pilon De Azucar
The place, also known as "Kamaichi", is situated next to Playa Dorada. The climb up to the top takes about 15 minutes.
Playa Dorada is 5-10 minutes by motorcycle or walking from Cabo.
You will find a small statue of the Virgin Mary of Fatima when you arrive. You can see names of dead people in the valley if you look down. The names are written on rocks.
I love to stop at Cabo de la Vela for the view.
Mirador Tortuga
This Point is situated on top of Piedra Turtuga. A large slab of rock named after its turtle shape. The views are spectacular, both up and down along the coast.
You can also walk to the top in about 15 minutes, but the terrain here is flatter and easier.
The Mirador is located right next to Ojo de Agua Beach, approximately an hour away from Cabo de la Vela by foot. A moto-taxi will take you there in about 5 minutes.
Playa Dorada Beach, Ojo de Agua Beach, and Arcoiris Beach
Two of the beaches are right next to the lookout point.
Playa Dorada
It's easier to take the moto-taxi, which will only cost you 10-15 min. You can arrange to have the driver wait for you to take you home.
The sand on the beach is golden. You'll enjoy feeling it beneath your feet as you gaze at the turquoise Caribbean Sea. Be careful. It can be difficult to swim in the waves.
It is best to swim in the morning . In the afternoon there is little to no shade.
You can find local crafts and drinks here, including the "mochila", a famous bag.
Playa Arcoiris
This beach can be found less than 1km away from the Pilon de Azucar Lookout Point.
Swimming is dangerous due to the ocean waves and currents.
The beach is still worth visiting because the ocean spray creates an effect of rainbows when it passes over the rocks.
Playa Ojo De Agua
It was the best beach around. The waves here are usually calmer.
The Tortuga Stone and the lookout point t are both located close to Cabo de la Vela.
You can also buy refreshments here. This is another place that's known for its stunning sunsets.
#9 Your next stop should be Punta Gallinas
Punta Gallinas, located at the tip of the Guajira Peninsula in South America is the northernmost point. This is also one of the most remote and wild areas in the world.
I think that if you have already been to Cabo de la Vela you owe yourself at least one day in Punta Gallinas.
If you go to Cabo de la Vela by yourself you are likely to be offered this tour at least one time.
You'll need to plan to go on the tour the next day. Transportation costs will range from $30-40 USD, or 150-200,000 Colombian Pesos.
You can visit Punta Gallinas as you are leaving Cabo, since most tours take you to Punta Gallinas before returning to Uribia.
Please keep in mind that the vehicles departing from Riohacha have a much higher reliability for the trip.
It's a Harsh Environment
Keep in mind that this is a difficult place to live on a permanent basis.
The desert is a vast area with little to offer except the sand, the dry brush and the wild goats.
Wayuus still use goats as currency for dowries and other purposes.
Water is a problem here, particularly potable water. It has become worse over the past few years, as what little water that has been flowing through local rivers is now drying up.
In La Guajira, please be very careful with your water usage.
Locals will ask for water and food at impromptu tool stands. They are usually manned by children as young as 5 or 6 year old . This is heartbreaking. If you can, I suggest bringing snacks and drinks with you.
In this part of the globe, you are grateful for your home and lifestyle. The people of La Guajira have it easy.
It's Dirty
Many tourists and locals in Cabo de La Vela are not very aware of how to properly dispose of their trash.
Garbage is often blown all over the desert. You will find bits of it stuck on cactuses, thorny plants, and many other plants.
Please be especially mindful as a guest. Commit to leaving a place in the same condition that you found it.
Plan to take all of your belongings, including garbage, with you when you go into remote areas. Dispose of them at the nearest appropriate location.
Bring a large, full water bottle to Cabo de la Vela. This will save you precious water, and reduce waste. In town, they don't have anything larger than a 500ml water bottle.
You'll have a hard time if you are vegan or vegetarian
Locals don't consume much plant-based food. They eat a lot of local goat, seafood and rice.
Please bring your own food if you don't like the food above. Cabo de la Vela has very few options for food.
Bring Cash
It is best to bring all the cash that you may need, either from Riohacha itself or before. No ATMs or card machine are available in the area.
Bring small change, as they may not be able give you exact change.
Here are some prices you might expect to pay in Cabo de La Vela as a tourist (in COP).
Please reserve in advance.

Two 500ml water bottles: 5,000

Juice: 10,000

Toilet paper: 3000

Chinchorro (big comfortable hammock): 25,000 per night

Regular hammock: 20,000 per day

Breakfast: 15,000

Full meal: 30,000 (proteins, rice, fried plantsains)

Beers: Domestic: 6,000
It's Safe To Travel To Cabo De La Vela
Many people are worried about traveling in Colombia, particularly to remote regions like this. There is little to fear in this case.
Local Wayuu culture has a reputation for restraining criminal groups or illegal groups from entering their territory. The local Wayuu culture is also known for its ability to police their own criminal element.
I have personally visited the site three times, twice without an agency and neither seen nor experienced any problems.
No Internet
No internet is available in Cabo de la Vela or the surrounding area.
Claro is a great phone operator!
Plan ahead and disconnect before traveling to Cabo De la Vela. This trip is a great way to reduce your stress.
Cabo de la Vela is an important site for the Wayuu
The indigenous Wayuu people consider dream as a real part of life. Each dream must be carefully analyzed.
In their dreams they consult their departed loved one, their gods and even nature. This is done to help them make important decisions in life, like moving homes, going on vacation, or starting new businesses.
Cabo de la Vela, or Jepira as it is called in Wayuu, is one of their sites where the ancestors have a close connection with the people.
These people believe their dreams have a special relevance in these areas, and can even change the future in an important and profound way.
Wayuu Handicrafts
You can purchase , a traditional " Mochila" or, little bags that are made by women from the Wayuu.
Their mochilas, like their dreams, are special and unique, and they have a lot of meaning. Each stitch of a mochila is deeply spiritual for them.
A Wayuu girl is isolated from the rest of society when she reaches puberty. This can last for several months. Women teach her the art of making mochilas, among other culturally relevant things.
Even though they say the best mochilas in Cabo de la Vela aren't the ones that are available there, these are still special.
There's no need for haggling over price when you buy one where it is made.
Buy several; they are great gifts and will help a local economy in need.
Cabo De La Vela FAQ
Answers to some of the most common questions that our readers may have.
What does Cabo de la Vela mean?

Cabo de la Vela means ("Cape of Sails"). Juan de la Costa named it when he saw the windswept cape that is known today as Cabo de la Vela.

How do I get from Santa Marta, to Cabo de La Vela?

Take a bus to Riohacha to get from Santa Marta (or the public market) to Cabo de La Vela. This takes approximately 3 hours. After an hour of driving, head to Uribia and rent a 4×4 for two hours.

How do I get from Palomino to Cabo de la Vela?

It is most efficient to take a direct taxi from Palomino directly to Riochacha. Follow the road, as previously mentioned.

How do I get from Cartagena to Cabo de la Vela

Take the first Brasilia bus (around 5am) to Riohacha to get from Cartagena up to Cabo de Vela. This takes approximately 7-8 hours. Follow the road, as described above. By the end of the morning, you should be able reach Cabo.

How long should I spend in Cabo de La Vela?

Plan to stay longer for kitesurfing. One night is sufficient for an agency.