Mexico Travel Guide For Your Next Holiday
Mexico City is the perfect travel destination for those who want to learn more about the history of Mexico and enjoy some great foodie experiences. You might want to cool down in the jewel-colored waters at the trendy town Tulum. Cancun and Los Cabos are great for travelers who want to relax in a resort setting, sip margaritas on the beach, or just enjoy sand.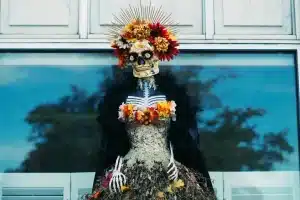 You will find that no matter where you go, you'll be greeted by some of the most delicious food, beautiful buildings, and locals who are eager to share their culture with you.
Mexico Travel Guide & Travel facts
Population: 122 million.
Origins More than 80 percent of the population are mestizos, who combine European and indigenous cultures with a veneer urban sophistication.
Size: 1.96 million sq km.
ExportsMexico exports more tomato than any other crop. This is derived from " tomatl", which is a Nahuatl term.
A dog's life: Chihuahuas are the world's smallest breed of dogs and they were named after the state of Chihuahua.
Films The opening scene of Bond movie , Spectre, closed central Mexico City's Zocalo in Mexico City for 10 days. 1500 extras were involved (mostly dressed up as Day of the Dead celebrators).
Mexico's artistic heritage:Mexico is home to many talented artists, such as Salma Hayek, Pancho Villa and Frida Káhlo.
Culinary critters Since Aztec times, bugs have been a delicacy in Mexico. Some of the most popular include cocopaches(a type of cockroach), Chicatanas(flying ants), and Escamoles.
Language Spanish, the official language in Mexico. The government does recognize 68 languages, of which 63 are indigenous.
Currency The official currency in Mexico is the peso.
ATMs & Credit Cards: Visa American Express and Mastercard is widely accepted throughout Mexico. In the big cities, you won't find it difficult to pay with a card or locate an ATM. Carrying too much cash at once can be dangerous, even though it's a good idea to have some on hand at all times. You're better to use ATMs at larger banks such as Banamex Banco Santander Banorte and HSBC.
Plugs In Mexico the standard voltage and frequency are 60Hz and 127V. If you are visiting Mexico from the US you do not need to use an adapter.
Safety Mexico is known for its unsafe reputation. Keep your wits and be aware of the surroundings. When I visit Mexico, I let my hotel know what I am doing and when I expect to return. I would also avoid walking at night alone and invest in a bag that will prevent pickpocketing.
Mexico Travel Guide & Attractions
The ancient Mayan City of Chichen Itza, known for its mysterious pyramid temples, is one of the best things to see and do near Cancun. The distance is only two hours, making it the perfect day trip for those who want to dance barefoot in the sand on one of Cancun's beaches.
The Yucatan Peninsula is one of the most beautiful places in Mexico, both for its scenery and its culture. It's a lush peninsula that separates the Caribbean Sea and the turquoise waters of Gulf of Mexico. You'll find some of the most beautiful beaches in Mexico, as well as historic colonial cities like Merida.
Mexico Travel Guide & Places To Visit
Mexico City
Mexico City is a fascinating city, despite its urban sprawl. It's the cultural, artistic and political capital of Mexico. Mexico City is a mega-city with more than 25 million inhabitants occupying an shallow mountain bowl over 2400m above the sea level. The city, which stretches beyond the federal district that is supposed to contain the city, is both edgy yet relaxed at the same. The city is surrounded by the most important relics from the pre-Hispanic culture of central Mexico, including the Teotihuacan pyramids and Tula's main Toltec site.
Puebla
East of Mexico City lies the elegant city of Puebla. It is known for its colonial-style architecture and delicious cuisine. It's a quick 40-minute drive from Tlaxcala, or two hours by bus, to the fifth-largest Mexican city. The trip offers stunning views of Popocatepetl (the highest peak in Mexico) and Ixtaccihuatl (the second-highest). Puebla is home to a number of impressive sights including a magnificent cathedral, a "hidden convent", museums, and grand mansions. The surrounding mountainous country can be breathtaking.
Tulum
Tulum means different things to visitors. It's also one of the most beautiful ancient Maya sites. The site is perched on a 15m high cliff above the Caribbean. Tulum is also a white stretch of beach with turquoise waters and candlelit cabanas. It's also a bustling town, often called Tulum Pueblo (to distinguish it from the beach), that has grown from a roadside stop to a real population center with a thriving tourist core.
Oaxaca
The state of Oaxaca has to be one of the most attractive places in Mexico. State capital Oaxaca, which is cosmopolitan and yet completely Mexican, encompasses much of the best that this region has to provide. The fiestas are unlike anything else in Mexico. The markets are vibrant and the languages old. The villages have indigenous traditions that predate the Spanish Conquest, but the city also offers sophisticated modern dining and accommodation as well as a wild nightlife.
Acapulco, Pacific Coast
As you travel north along the Pacific Coast from Acapulco, to Puerto Vallarta (about 800km), you will experience the best of beach life. The history is there, for sure, but the buttery sands with palm trees, the makeshift beach bars, and the torpid villages are what really stand out. Some of Mexico's most popular resorts are located between these wild stretches of coastline.
Veracruz
There are few tourists who venture to the Gulf Coast, despite the attraction of Veracruz with its mysterious ruins. It's a shame, because the central plaza of the city is one the best places to visit in Mexico. The fertile tropical coastal plain was the birthplace of Mexico's earliest civilizations. Olmec culture flourished in southern Veracruz as early as 1200 BC. Classic Veracruz thrived between 250-900 AD, at centres like El Tajin. Huastec culture and Totonac are still strong in the north.
Cancun
The glitz and glamour of Mexico's massive resort city can be off-putting to independent travellers. All the concrete is a depressing sight. A night in Cancun is not a waste, as long as you enjoy the city's energy and don't complain about its lack of historical significance. If you look closely, you'll find hidden beach bars with cheap tacos and friendly Cancunenses.
Playa del Carmen
Playa del Carmen, once a sleepy fishing village where travelers camped en route to Isla Cozumel now boasts the ambitions of becoming the next Miami Beach. Mexico City's elite, as well as day-trippers and cruise ship passengers docked in Cozumel, visit "Playa". The north side of Cozumel is cosmopolitan, calm and hip.
Guadalajara
Guadalajara , Mexico's second largest city, is a lively and elegant place with many beautiful buildings. No visitor should miss the chance to hear mariachi at its birthplace, specifically in the Plaza de Los Mariachis. The land outside the city is lush and green, with mountains and lakes. Most famously, Laguna de Chapala.
Baja California
Baja California has a rich marine life and a desert landscape that is tantalizing. It's one of Mexico's most captivating places to visit. The human history of the region is equally captivating, with its remote cave paintings and crumbling Spanish missions, as well as delicious seafood. The annual migration of the grey whales from December to March is one of the most spectacular sights in Baja. The magnificent creatures can be spotted at the Laguna Ojo de Liebre just off Guerrero Negro or the lagoon near San Ignacio.
Yucatan Peninsula
Yucatan is a place where traditional indigenous culture coexists with huge tourist attractions, such as the great ruins Chichen Itza or the Cancun super-resort. The Caribbean coast, once the domain of Maya rebels, palm plantation owners and their descendants, is now known as the Riviera Maya. This includes the towns Playa del Carmen, Tulum and other coastal cities. You'll find cenotes, underground springs, to the north of these large centres. There are also flocks and sea turtles on the coast.
Chichen Itza
Chichen Itza has been the most popular Maya site, and is also the one that's most restored. It is located conveniently on the highway that connects Merida with Cancun. The Caribbean coast is about 200km away. Early arrival allows you to explore the ruins in peace, including the vertiginous temples, Chac-mools and dramatic snail-shaped observatories.
North Mexico
Mexico's north is rich in legends about the country's revolutionary past. However, its modern history has been dominated by the relationship it shares with the United States. The region is less visited than southern states but cross-border commerce – which involves both the movement of goods and people – makes it one of Mexico's most dynamic areas. But it's not just business. The north is untamed and rugged, with deserts, mountains and seedy frontier towns. It also has archeological remains, modern cities and modern cities.
Mexico Travel Guide &
When to Visit
If you want to enjoy the beaches and the warm temperatures, the best time to visit Mexico is between December and April. The temperature will be in the mid-twenties, but there won't be too much humidity. This is a good place to go in Mexico during July when the temperatures are high.
The best time to travel to Mexico is dependent on where you are going. Mexico has 5,800 miles worth of beaches. The interior, however, is made of thick jungle, deserts, mountain ranges and more!
You'll want travel to the beach after hurricane season. It's dry season from November to April in Mexico. This means more sunshine and less humidity, but temperatures can be cooler inland.
Late summer (August to October) is a great time to visit the coast. There are fewer tourists, and rates will be lower. Winter is the best time to visit the mountains or jungles. It's the perfect time to go hiking, as you'll be able to avoid the rain and humidity.